What's In Your Freezer?
Taking a break from working on my to do list and backups, here is why we will undoubtedly want a freezer someday: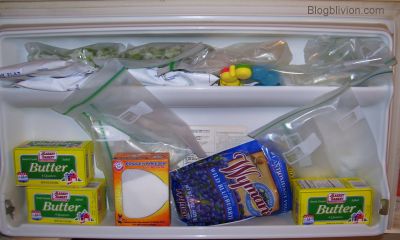 That's a little less neat than I had it, as we removed and moved stuff after I completely repacked it to make it all fit. For instance, there'd been two loves of bread on top of the veggies, but those were used and replaced by a roast. Since the pictures, we've used a couple chicken breasts and added a small whole chicken. The other one being in the fridge to cook tomorrow or Saturday.
Hmmm… I wonder if it would work to cook it in the crockpot toward the goal of a shredded chicken dish.
Anyway, this is a lot and yet surprisingly little food, and I can absolutely see maintaining a separate freezer and rotating stuff through it.

Posted by on 01/17 at 08:53 PM
I know space is probably an issue, but I highly recommend the freezer. Try Craig's List - you can find them for pretty cheap. We use the large freezer almost exclusively. I think there's some ice cream in the frig-freezer and maybe some frozen veggies, but that's about it.

Posted by

jen

on 01/17 at 09:52 PM from Northern Virginia

My parents had one for years! It was cheaper for them because they would always buy meat in bulk. They would get together with 3 other families, and go buy a cow from a rural butcher. Split 4 ways, it is much cheaper than any supermarket. Plus, with three kids, making home-made popsicles for the summer....

Posted by on 01/18 at 12:37 AM from too close to DC

We had to buy and extra freezer b/c of Sean's wheat allergies.

it is the best investment EVER MADE. To be able to stock up at BJ"s on meat and stuff.

BUT...........that's if your kids dont forget to shut the freezer door and lose $400 worth of food.

Posted by on 01/18 at 05:39 PM from mass