A Wee Bit of Henry
Here's a sample of the recently accumulated pictures of Henry Adam that need to be turned into a "yes, we take pictures of him too" post. This in particular is from a rapid fire set that could be put up as "the many moods of Henry," shades of something I recall doing with pictures of Sadie's face at a certain age.
We have somehow managed not to get many pictures that show that he is the happiest baby ever. This is an exception, and by no means unusual. By contrast, when you see all the serious pictures of Valerie, well, she usually looks serious. After all, she's studying us and the world. We saw that on Christmas. While even Sadie sat back and allowed Christmas to happen to her, Valerie studied and analyzed it, filing the whole thing away. This also fits with her "Baby Einstein" thing. She started out cutely saying "baby baby stein stein," or "baby steinSTEIN." Which itself was pretty clever, but she practiced and practiced and in a matter of a couple days was usually saying "Baby Einstein" as clearly as any adult. Sadie has more vocabulary, if not by that much, but Valerie is usually far clearer. Sadie says "Care Bear" and it sounds like "cowbell," which is amusing, but she keeps doing it no matter how many times we're like "what?" We have to remember that's what she's really saying, and she's lazier about improving or being clear. But I digress. See what happens? I try to do a quick Henry post and the girls interfere.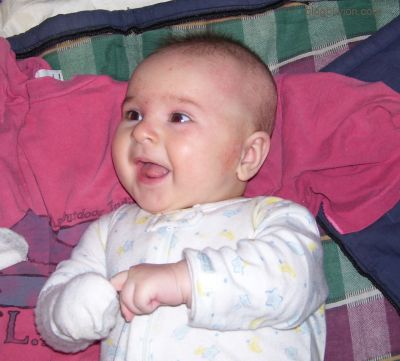 But he doesn't mind. He loves his sisters. Especially Sadie. He just worships her.

Posted by on 01/02 at 04:46 AM