Saturday, May 31, 2008
Jay: RIP The Exersaucer
This week, the exersaucer you've seen in many baby pictures went to toy heaven. It was sad, but it was too beat to hand down, after a total of six kids beat on it. It was handed down to us by an employee of a client, who'd had it for her three kids. When Sadie first used it, she was so small we had to prop her with towels, back in the Stoughton apartment.
By the time it got to Henry, before he could use it, I'd tied the cloth seat on with secondary ties of heavy yarn, to supplement the original elastic ones, saggy and about to fail. That made it less bouncy, but meant it could be used. I also had to put the toy bar that represents half the play value back on with glue and duct tape, giving it character. That held until well after he outgrew it. Which he did early, because he's so huge. The kids broke that off again by turning the thing upside down and smooshing it into the floor.
They all played with it, if not for its intended purpose, until the end. I actually tried to take it apart while they weren't looking. Sadie was mildly sad, but more fascinated with how it came apart, and how I got the pieces into trash bags.
Well, have kids and that about covers it, so end of this post. Right Henry?j hgjgjhlj;?:yrf

Jay: Artsy Henry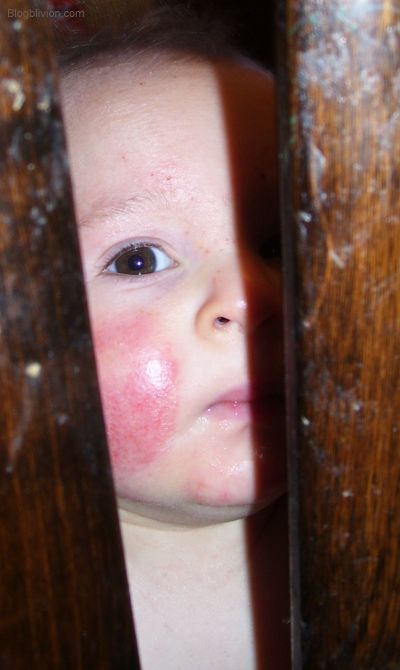 Jay: The Referee
Ah, genetics…
Jay: Don't Mess With Valerie
Here she is, the winner. Wait, we're in Massachusetts… the winnah!
Jay: Little Sister Strikes Back
This is kind of graphic, so I put the picture below the fold. This is Sadie's face after Valerie defended herself and whacked her good with something. There was also blood all down her belly, on the floor and, as a result, on Henry's diaper. Spectacular as it looked, it wasn't a big deal.
The funny thing about it was how well it showed that if Sadie irritates Valerie sufficiently, Valerie can beat Sadie up.
Jay: Happy Birthday
To blogger John C.A. Bambenek, who is 31 today.

Friday, May 30, 2008
Jay: Happy Birthday
To former blogger Lisa Stanek, whose blog seems to have been purged from BlogSpot.

Jay: Happy Birthday
To blogger Stephen Shores, who appears to be 30 today.

Jay: Hey, Didn't This Used to Be a Blog?
We're kind of busy and distracted, so even with the modest availability things that I can still blog about without an oppressive sense of self-censorship, I just haven't gotten to it lately. Lack of birthdays has thus meant lack of posts, and the birthday posts are meant to be spice, not meat. There are a couple others I may get to, one imperative and one landmark, despite over a week having passed since it came to mind.
That said, it's relatively easy and of some interest to post about the baby and where he stands on the food front. It seems these days the biggest problems are unidentified airborne or other environmental, with maybe a low grade effect from even some foods that are "safe." To the degree we're dealing with a salicylate sensitivity, almost everything is a source, and it's difficult not to include a certain amount of high and moderate sources, even if you avoid the very high completely and the next ones down as much as possible. There are also ambiguities, whereby a given item can be higher or lower depending on growing conditions. At any rate, the chart we've found most useful notes that each level is ten times the prior. Thus very high is 10x high is 10x moderate is 10x low.
There are two things that have been clear. Three, if you count the big $2600 we can never afford to pay incident and the most probable cause. Two, if you count dairy as singular.
He can't have milk. Period. He breaks out in a rash almost instantly. Not sure, but he may have gotten his hands on some during the Lactaid experiment, and reacted less badly, whatever that means - maybe ultrapasteurization breaking down proteins more being helpful.
The emergency room incident was almost certainly cheese. It was also topical, never a breathing issue, but more a matter of looking so bad because of where it swelled. The thing is, I seemed to react to that cheese, and as noted, cheddar particularly can apparently generate its own histamines.
Of the other candidates that night, well, he has put egg in his mouth and not reacted, and Deb's test of eating eggs has shown she is free to have eggs and, by extension, mayonnaise again. He can eat corn. We're skeptical of wheat being a problem, certainly not at that level. The only thing that leaves from that night might be ham, which would have been a bit player and would mean an awfully extreme reaction to my having handled it. Cheese is likely, especially given the milk thing and the histamine thing.
Of course, his own drool makes him rashy, and I believe he has a bit of a reflux problem, which may be recursion. That is, stuff affects sinuses, sinuses encourage reflux, reflux makes sinuses worse and makes drool acidic. Maybe stuff affects skin worse on contact due to the damage, for that matter.
Anyway, it's not an item of concern for salicylates, but he had an extreme reaction to banana. Now, that may have been interaction with other stuff, and may not have been as bad as it seemed, but he can wait to try again.
What I was planning to cover mainly is what he can eat. With Valerie confirmed to be unable to have milk, even Lactaid, without losing bladder control, it's made him less likely to have accidental drinks of it. It makes him so happy, but the result isn't fun. We've been able to speed up trying new things. It's challenging to be operating on the cheap, but hey.
Beef
Chicken
Pork
The only meat of concern might be cured, spiced kinds of things, so I haven't given him hot dogs when we've had them. I thought he might be reacting mildly to pork at times, and when I did a series of "rub things on his skin" tests one day, grease that had primarily rendered from pork during frying was the only thing there might have been a reaction to, but it was ambiguous. My antiperspirant, Irish Spring, some stuff like that all passed. He gets plenty of meat.
Oats (oatmeal)
Rice (including puffs, cakes)
Some tastes of things that technically contained wheat.
Corn, as a vegetable.
Corn, in tortilla chips soaked in water or chicken broth to soften them.
Butternut
Carrots
Sweet potato
White potato in any form, though I'd avoid giving him skin even if he could chew it.
White sugar, avoid brown sugar as it charts and he may have reacted to it.
Green beans
Parsnip, probably - some ambiguity and small sample
Pinto beans
Chemicals that qualify to be called lemonade when mixed with water (seemed to react a little to the fruit punch mix).
Canned pears in heavy syrup. Light syrup is pear juice, which is processed in a way that involves the skin.
I swear I'm forgetting something.
Soy seems not to bother him. Usually that's in the form of oil for cooking. He's also had stuff fried in Crisco, which would mean exposure to cottonseed oil.
He'll get to try peas soon. He had a too small to harm him taste of strawberry jello and seemed to be unaffected.
As far as seasonings or veggies used mainly for that purpose, he seems fine with onion and garlic. Black pepper I avoid especially for him. Red pepper and the like, and some of the other things I use routinely, all high, but the quantities in food can be minute. We use caution, but he has or might have eaten food with red pepper, cumin, oregano, garlic, onion, ginger, celery, allspice, nutmeg, cinnamon, sage, savory, rosemary, or whatever having participated in the making. Not sure exactly which. If it's, say, chicken, it's in the oil and on the outside of the meat, but I'll emphasize giving him bits from the inside with minimal outer layer.
Cauliflower. He tried cauliflower and that went fine. We love that when it's on sale.
Fruit is the biggest problem. Especially in juice or uncooked. Pear is the lowest of the fruits and he clearly reacted to pear juice. Essentially he needs a caveman diet.
Overall he's doing well. A lot of the itching he does is emotional, a reaction of habit. Getting sleepy equals uncomfortable. Discomfort equals itchy. Ithchy equals scratch yourself bloody. He is helped a lot by pre-emptive doses of gas drops and Tylenol, assuming he doesn't decide he does not need one or both, as he did today. Absolutely refused gas drops, period. Refused Tylenol one time, accepted it later. As I always say, he's little, not stupid. In fact, he's scary.
Now if he wants to eat he starts dragging his high chair across the kitchen. He also seems to have learned that if food is left in the seat, he can shake the chair to get it where he can reach it. He was mad at me for cleaning up right after he pigged out for supper, because after his bath he was foraging for more. For supper he had chicken, a tiny bit of beef, potato, about 2/3 of a good sized sweet potato, corn, and plain pinto beans. When I found him foraging, I gave him part of a rice cake, but that just wasn't the same.
Looking at this decent food list, which I need to review in detail again to figure where we are going with trying other things, I was reminded that he seemed to react heavily to sucking on raisins the girls left on the floor for his benefit. Ditto for a couple of the cranberry whatever juice combos. We've gone almost exclusively into powdered drink mixes, mainly lemonade, but also fruit punch and - though the girls haven't warmed to it - iced tea. Lack of juice may also be helping Valerie, though if that was a factor, it was still at least 90% the milk.
I'm barely staying awake, so this is probably rambling and incoherent, and likely incomplete. Oh well. I had some pictures to post, and will have some stunning ones after the camera is next downloaded. He really put on a show today.

Monday, May 26, 2008
Jay: Happy Birthday
To attorney Jennifer (Harrington) Galego.

Sunday, May 25, 2008
Jay: Happy Birthday
To blogger Martin Lindeskog.

Saturday, May 24, 2008
Jay: Happy Anniversary
To Ryun and Sharon, who have been married ten years.

Jay: Happy Birthday
To blogger Andrea Harris.

Friday, May 23, 2008
Jay: Happy Birthday
To blogger Drumwaster.

Jay: Happy Birthday
To my cousin Jennifer, who is 38 today.