Monday, December 31, 2007
Deb: I've often wondered…
Why exactly it is that I feel compelled to read things that I know will just piss me off? I used to do it with parenting stuff and now I do it with fiber stuff (acrylic v. wool makes breast v. bottle look tame, people. Really.) and I have no idea why. I think there's some part of me that fears that if I quit being angry at people for being people, I'll disappear into a puff of irrelevancy. Or something.
I clearly need more to drink. Of course, I haven't had anything to drink, but some days I think that chasing the three kids around leaves me making little enough sense that I qualify as half-drunk anyway. Heh.
The thing, of course, that I've always missed most about smoking is not having an excuse to go outside for 10 minutes and be left the hell alone for that little stretch of time. Why I can't seem to justify that without the killing myself slowly part, I'm not really sure. Doesn't make a lot of sense, does it? But there it is.
Deb: Thanks, Mitt Romney!
I was going to put a post here, but I thought better of it. Let's just say that I don't tolerate any talk about how he's presidential material.
Happy New Year, anyway.
Jay: About Eleventy-one
Last night I was poking around, trying to locate the local files for the main page of elhide.com and the original CotC page, thinking those both could use modifying, and thinking I really need to organize the files on my hard drive that are for blogs and other online content. I mean, more is already the case, as I have a "blogs" folder on the desktop, but there's a ton of obsolete or transient or false start stuff under it, and other files are in folders off the root of C. Confusing. And if there's anything this year needs resolve to do, it's be more organized.
Anyway, I came across my "about Jay Solo" page, which was HTML and not part of the blog. Reading through, I was intrigued that I had updated it when I was 43 and again when I was 46, based on fun with strikeouts. However. part of the way through, it clearly reverted to obsolete text. Had I started revising and never finished and uploaded it? Indeed; the online version remains last updated in 2004. Oops.
That got me looking at my "eleventy-one things about me" page. The number of states visited and slept in looked odd, so I tallied and realized that I last updated that page after I married Deb, but before I went back to California to drive across the country with her. Wow. I didn't look for an offline version to see if I'd gotten part of the way through and never posted the update. What I really should do is an entirely new version, changing some of what's there and eliminating the clunky parts.
I long since left a page up at the original address of the CotC, but made it a portal to a set of links. That could be updated, but the big thing I need to change is the title. The page still captions with "Carnival of the Capitalists" and that is probably part of why it still tends to come out ahead of the current home in search results. That and it was the CotC's heyday, when everyone linked that page and many of them left the link unupdated. Fewer people bother to link the home page now, even some weeks the people who have hosted, within their CotC post.
I also looked at traffic, and at least half the total traffic to my original blog goes to that CotC page. In turn, a significant proportion of the traffic to the current CotC site comes from the original CotC page.
Ah well. It was interesting, digging through the old stuff. Since online activity is going to generate part of our income, if only supplemental, there's merit in getting it organized and taking maximum advantage of residual value of old pages.

Jay: Coffee
Guess I ought to have some, eh? Considering I've been up for a couple hours and started the coffeemaker at the beginning of that. Considering I got to sleep at something like 3:00 and then had a restless night and a Sadie-invoked change of venue at 5:00 or so.
Mmmm… Coffee.

Jay: Happy Birthday
To my cousin Billy, who is 48 today.

Jay: Yay!
The weather system never lost its warmth. It's a bit wet and icky out there, but no snow. Apparently the record will stand.

Jay: The Secret
To getting the girls to eat until they are stuffed is apparently to feed them ham.
I made a Cook's spiral half ham, mashed potatoes, butternut, and my first ever ham-based gravy. They each ate a couple of good-sized slices worth of ham, including the seconds, and Sadie asked for more gravy, including on her potatoes. We started them with a dab of gravy on the side, and a dab of the sweet dipping sauce left over from glazing on the side. They each demolished their sides significantly, on top of the ham. Sadie also learned to use a table knife to cut her own.
Each item was exceptional, but the big story was the gravy. I had seen reference to red eye gravy, but the closest I ever came to having "gravy" with ham was my grandfather's sweet raisin sauce. I was intrigued by the idea of a gravy including coffee as an ingredient. My variant used half a cup of ham juices from when it was most of the way finished, just before glazing, a couple tablespoons or so of butter, a dash of onion powder, a pinch of celery flakes, a tiny pinch of red pepper, a dash of white pepper, about three tablespoons of flour, a quarter cup or so of black coffee from the pot on the coffeemaker, between a cup and a cup and a half of water, and probably around a tablespoon of dark brown sugar to cut the bitter aspect. It's the first gravy I've ever made successfully without beef or chicken bouillon, as far as I can recall, and logically enough. It's something I could only hope to duplicate in the future.
I could easily serve that meal in a restaurant and have people coming back and sending their friends. It'll have to go on the menu of my hypothetical comfort foods restaurant we've joked about.

Sunday, December 30, 2007
Jay: Yuck
This takes place roughly 1 AM to 1 PM Monday.
When I didn't go do errands Friday afternoon, this was nowhere in sight. Tomorrow is going to be… interesting. I can't not go to the bank, even if it's the one in the mall (weirdly, the closest branch) so it's open late.
Looks like we'll get our record December snowfall, which a couple days ago they were certain couldn't possibly happen.
Sigh…
Oh well. Ham's been in the oven long enough that it's about time to peel and cut up potatoes and butternut squash to go with it. Then it will be sandwiches, pea soup, and packets of ham pieces for scrambled eggs or perhaps other things, like beans or mac and cheese. Gotta get our money's worth, even at $1.69 a pound.
Perhaps I'll make some applesauce too.
Even with having to go out tomorrow afternoon, regardless, I still feel like I ought to scrape up some cash from around the house to get milk and diapers. Perhaps a couple things of babyfood. But it can wait, really. I hope.

Jay: Timeout
Any thoughts out there on the merits of employing timeouts - say, sitting in a chair in a corner - in the course of generating desired behavior or counteracting negative behavior?
Spanking has its place, but my hand could get sore…

Jay: RIP UHF
My father gave us a hand-me-down old 27" TV recently. It's been great! Odd, though, the sound would sometimes be fuzzy on UHF stations.
Last night UHF died entirely. Since the antenna still works to receive and modify reception of VHF, it would appear to be the innards that process and display the UHF signal.
Where is most of what passes for kid's programming on broadcast TV? UHF. Where is at least half of what we watch otherwise? UHF.
Doh.
Notwithstanding that it still works fine for watching DVDs, looks like I will promptly be swapping our 23" 21" set back into usage, and hope it doesn't get any ideas from the other one.

Saturday, December 29, 2007
Jay: Scroll
I just published a series of eight posts with or related to Christmas pictures of the kids. Don't assume the first one or two are it. That's a big chunk of the current from page.

Jay: You Gotta Have Art Supplies
Sadie's equivalent of the Play-Doh was an art kit, including water colors, which she was excited about. It also has crayons, oil crayons that are the generic of Cray-Pas, colored pencils, markers, glue, a sharpener, and probably something I'm forgetting. She was ecstatic. The second picture here gives some idea of her reaction. The pairing of the Play-Doh and art stuff was perfect. While Sadie used her paint and tried out the markers, Valerie was completely occupied by the Play-Doh.
Besides the kit, they each got crayons, chalk, pencils, pens, and stickers. Sadie got erasable colored pencils. That stuff has been the main thing they've used since Christmas, as the kitchen floor can attest.
Jay: Not to Be Confused With Real Doh?
Valerie got a major gift of a nice Play-Doh set, recognizing her being able to play with it without eating it, now. She was thrilled. Sadie thought it was pretty cool too. It's an excellent set, better in some ways than the ones Sadie has had over time.
Jay: My Little Valerie
Valerie got a My Little Pony this year, as she's been fond of the one Sadie owns. I also observed that when I took her through the entire toy department* in Wal-Mart recently, those were about the only thing she reacted to with interest. She showed slight interest in the toy musical instruments, and lots of interest in a super soft stuffed dog.
Now they have three between them, since their cousin Alicia gave a hand-me-down one to the two of them, which was awesome.
Sure enough, she was delighted with it. Sadie thought it was cool too.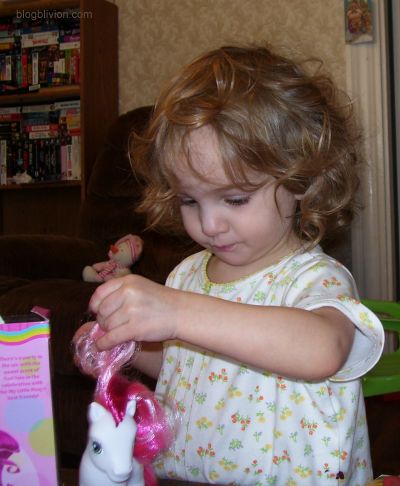 * Or most of the toy department, as I believe I skipped a half-aisle or two being occupied by what we call "only person in the store" shoppers.

Jay: The Mutant Peeps of Winter
Sadie reacts to getting a package of snowman peeps in her stocking. Valerie got trees. Those were a huge hit.