Food & Cooking
Recipes, Food Experiments and Commentary, Etc.
Saturday, November 04, 2006
Jay: Barley Beef Stew
Yesterday I made what we have dubbed barley beef stew, based on a recipe for beef & vegetable barley soup on the Goya barley package. I had a pound or so of top round steak in the freezer, left from a 2 piece, 2.44 lb package I bought recently for an astonishing $1.89/lb.
Their recipe calls for beef, barley, onion, garlic, spices, boullion, water, and a can of mixed vegetables.
We wanted something thicker, and would be using frozen or fresh vegetables, but I par-cooked the fresh ones based on the idea that precooked would go into the recipe as written. I could probably have just put the fresh veggies in right after adding the water.
So it went something like this…
Olive oil - tbsp or so
Beef, a pound or so, cut in small, vaguely cube-like pieces
Small onion or equivalent; I used 1/3 of a largish sweet onion
Garlic, 1 clove, minced; was small and I could have used two
Oregano, 2 tsp
Celery salt, probably about 1/4 tsp; not in original, subbed for not having celery or celery seed, either of which I'd have used instead if I'd had them
Beef boullion cubes, 2
Water, 4-5 cups; original was 4, I had to add a good cup more
Bay leaf, 1; I used crushed equivalent of 1+, a little too much
Barley, 1/2 cup dry uncooked
Potatoes, 2 small to medium size, peeled and cubed
Carrots, 2 medium to large, peeled and sliced; I cut the largest slices in half
Lima beans, frozen, maybe a cup
Peas, frozen, maybe a cup
Other spices to taste, in pinches or more, including but not limited to black pepper, red pepper, cumin, savory, parsley, fennel seed.
(Corn, green beans, or mixed might work as well. We had no corn or it would have been in there.)
ObCTG: Remove lens cap.
Heat the oil in a saucepan and brown the beef. For me it was more of a medium pan, too deep to really brown and just cooked and bled water, which I boiled off as much of as I could.
Stir in onion and garlic and cook until onion tenderizes.
Stir in oregano, bay leaf, celery salt or seed, boullion cubes and water. Other spices can go now, later or both.
Bring to boil, then reduce heat and simmer. Original called for an hour, but I cut it short by at least 10 minutes. I put in part of the carrot and potato at start of simmer and the rest maybe half an hour in. I'd probably not par cook them next time and put them in at or near the start.
Add barley and frozen (or canned or precooked) vegetables.
Cook over medium to low heat another 30 minutes.
It was right before or during the last step I added black pepper, about 3 fennel seeds, and a dash of extra oregano.
Anyway, it was the tastiest beef stew or soup I have ever had. I started tasting the beef when it was first fully cooked and it was divine. It reminded me of my late grandfather's beef stew when it was "on," maybe a little more flavored. My grandmother is a great cook, but beef stew was one of his specialties. It actually got weaker later on, which, along with thinking it had too much bay leaf flavor, was what inspired me to touch up the flavorings. I also had to add water when I added the barley and frozen veggies. I should note that the barley could have gone in sooner, and actually finished absorbing water and cooking after the heat was off, as it was quite a while before we ate more than a sampling.
Deb said I'd outdone myself, and has claimed the lefover bowl of it for Mars herself. It made four solid bowls worth, and we estimated it at IIRC about 440 calories each, loaded with nutrients and fiber.
Pictures? Why yes, we have them.
This is after I'd added the veggies, barley and more water. In the first one it looks deceptively watery, but the second one shows just how thick it was in the pan.
The picture below is the leftovers, showing how thick it became after the barley finished. I thought it would be perfect to serve on and with injera (which even if I never try making an Ethiopian dish, I have a reason to try making now). We had wheat bread and butter, which is more traditional. Sadie was being bird-like, but Valerie couldn't get enough of it.
Friday, November 03, 2006
Jay: Barley and Pumpkin and Beans… Oh My!
To the extent that I am able to remain upright, I'm going to try making a beef soup with barley. And potato, since we've decided to make it a little more stew-like. The recipe on the barley bag calls for canned mixed vegetables, but I'm going to use real carrots, plus some frozen lima beans, peas, and corn if we're not out as we suspect.
Should be an interesting experiment, and hard to go wrong.
I was thinking of making chili again, but I've also been eager to try the barley. And the garbanzos I bought with the idea of making hummus. Which Deb noted is also used for falafel, which I have never had, but sounds good. After all, it's basically a meatball made with a bean instead of meat base. That led me to look at recipes here, here, here and here, the third of which uses fava beans with a lesser amount of chick peas, and all of which vary enough that you can get an idea of the range of possibilities. Really, the beans make a blank slate and could be spiced many ways.
That led me to a recipe for pita bread, which sounds easy. We'll have to get some yeast, which we'd also need if I ever get around to making bread. Not only is it a potential vehicle for falafel, but also toasted pita pieces are good dipped in hummus. Also there's a tahini recipe. Never heard of the stuff until I saw that it's used on falafel. So we'll need sesame seeds too.
On another food note, Jeff has a pumkin pie post at his food blog. I made pumkin pie from scratch once when I was a kid, and would be intrigued to do it again sometime. I found this recipe to do that, which intrigued me because it calls for using the microwave to cook the pumpkin. It looks like a fantastic shortcut.
All of which reminded me I want my stepmother's recipe for sweet potato pie. Though presumably I can find a good one online…
Thursday, November 02, 2006
Jay: Guess I Didn't Know Beans
I recently went on a bean buying binge, inspired by Deb's yummy experiments with black beans, and her homemade refried beans. I'd like to try making hummus sometime. I got the black and pinto beans for more of the aforementioned. I got barley on the idea I'd try using it in soup or see about cooking it like you would rice or bulgar wheat - another yummy experiment Deb did. I got kidney beans on the idea I might try making some baked beans. Or I could use them in chili. Which indeed I could probably make more of soon using the leftover steak in the freezer, supplemented by some ground beef as needed. Too bad I have no venison.
Anyway, when she was looking at what I got, Deb exclaimed over the kidney beans, and sought assurance that I planned to be the one cooking them. Why? Because they are poisonous if not done right.
Poisonous?
That's the first time in my whole life I had ever heard such a crazy thing.
Courtesy of the interwebs, I now know that it is true. Wow! You have to cook them the right way, and substantially, to cook out and rinse away the problem and avoid any bellyaching. Go figure. Naturally this won't stop me from using them, but I'm glad I learned that tiny little detail.
So. Any bean tips? I'd be especially interested in hearing any baked bean recipe ideas.
Wednesday, November 01, 2006
Jay: Candy Butts
I made Deb's day by bringing home some candy cigarettes, now called "candy sticks" and with no red dye at one end. Tiny boxes of two each were in a big basket of leftover candy someone had out at work.
They don't make them as candy cigarettes anymore, on the idea it encourages smoking. I hate smoking and would hate to encourage it, but that always seemed silly to me. Or perhaps I am not suggestable, and mistakenly assume the same of others. We didn't realize they made them at all. So I was all excited, ate a couple, and brought home five boxes. Yum.

Tuesday, October 31, 2006
Deb: Meatloaf Revisited
Here's one for Jeff's files:
I've been feeling experiment-y in the kitchen. Last night I made random chicken ala Deb, which turned out incredibly well. Tonight, I decided to tackle meatloaf. Normally I use this recipe but with ketchup instead of tomato sauce. After Jeff's post I got interested in the idea of spicing the thing myself instead of using using the ketchup as a shortcut, so I went back to tomato sauce. So I threw the following in a loaf pan and prayed:
a pound and a half of 90/10 ground sirloin
an 8 oz can of tomato sauce
2 eggs (since they were on the small side)
between 3/4 c and 1 c of oatmeal
maybe 1/3 cup onion
a huge clove of garlic (2-3 regular cloves)
and added the following spices:
celery salt
black pepper
red pepper
paprika
cumin
oregano
I think it was the best damned meatloaf I've made yet. Jay agrees that it had by far the best texture, but misses the sweetness and tomato-y-ness of the ketchup. This could have been called "garlic meatloaf" without advertising at all falsely, as garlic was definitely the predominant flavor. The other flavors blended into a pleasant mild-but-robust background.
Most importantly, it tuned out well enough that it will definitely be followed by further experiments. I'll keep you posted…
Friday, October 27, 2006
Jay: Cranberry Pork Chops… And Pie!
Last night for supper I made a slight variant of this recipe, which looked like this when it came out of the oven:
One of the pork chops, plated along with sides:
It was astonishingly good. The leftover chop made a yummy sandwich for supper tonight. Definitely a keeper, but I'll want to make some changes. Note that in the top picture I had already cut two of the pork chops in half, knocking some of the fruit off the top, but it was still purty.
This was I believe the first time I have used the cast iron for baking (strike that; I made really awful cornbread in it once). I needed a covered baking pan, which I lack otherwise. Though foil probably would have worked. It was cool, going straight from browning on the stove to baking in the oven with no change of pan.
Anyway, I think the chops may have been slightly smaller than the recipe writer envisioned. The pan was perhaps smaller than they envisioned.
I browned them in the pan with olive oil, not shortening such as Crisco.
The onion was from the freezer, chopped fairly large I "thawed" it and was going to chop it finer, but it cooked and then chopping was more of a smooshing action. Oh well. I didn't measure, but it was at most the 1/4 cup called for.
The poultry seasoning was homemade, and in reading a recipe for it I mixed up marjoram and thyme, so it was heavy on marjoram. Then I added a dash of ginger and some extra sage and a little savory. Savory is my most frequently heavy chicken spice, but the recipe for poultry seasoning only called for sage, pepper, thyme, marjoram, and optionally cloves, which I lack. Except as a component of the pumpkin pie spice, and the pickling spice that came in my big rack. I ended up using about twice what it called for. The smell while it cooked was heavenly, so I guess I got it right.
Lacking chicken broth, I improvised with boullion cubes, dissolving two chicken and one beef in a cup of water heated in the microwave. The beef to add deep flavor (it did wonders when I used it on a turkey) was a good idea, but overall it was too strong, and too much liquid for the size of the pan. I'd consider the boullion again, but take it easier and use less water.
The apples were tiny, so I used two. That probably made it slightly heavier than intended, but not by a huge amount.
By the time I was done tossing bad berries and cutting bad spots, I probably was a bit light on cranberries, which was my goal.
Obviously the recipe has room for variation, using some of the basic ideas. I've been picturing what I might do with chicken breasts, for instance. Perhaps cranberry and orange. Perhaps vary the spices.
Highly recommended. We had such good luck with the last big batch of thick boneless pork chops I got cheap, I decided to get some at BJ's in Taunton while I was buying a giant pack of 90% hamburger and a 10 lb bag of frozen chicken breasts. Sort of a "meat for the month" trip. Except I got some nice looking steak tonight for $1.89 at Hannaford, too. The beef prices there made it look like steer hunting season or something. That'll probably be burritos tomorrow night.
Speaking of cranberries, which I bought by the pound at the farm stand a few days ago, today Deb made this: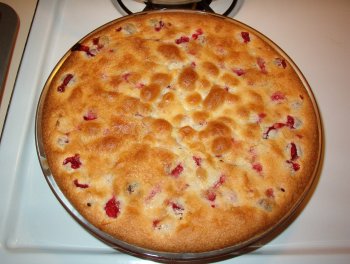 Cranberry pie recipe, the original post, and then the picture above is from this followup post.
Yum! Not to mention a good excuse to use the oven, contributing to our "let's not turn on the heat until November" project.
Wednesday, October 25, 2006
Jay: Houston, We Have An Oven
That was easy! Now I know what to try to fix the specific problem myself if I ever run into it again. It was as simple as blowing out the holes nearest the coupler with compressed air. The pilot leaves a white residue as it burns, and that can eventually clog. Those first holes have to be able to ignite in order to heat the coupler enough to start the gas flow to the rest of the burner tube.
Yay for easy problems!
Now it's like… what can I bake for supper? Heh.
Saturday, October 21, 2006
Jay: Speaking of Food…
Last night it was late-ish, I didn't feel much like cooking or inspired by what's in the house, and so I surprised Deb. I knew the kids had eaten first supper already, but she hadn't eaten and had no ideas. First supper is when the kids Must East at about 5:00 or so, whether the official supper is ready or not. Then they usually also eat a substantial amount of the second supper too. She had fed them leftover spaghetti with red sauce and beef, which Val ate fully half of without blinking.
I've mentioned how good the new takeout Chinese place on route 28 across from the state police is. It's called Chinatown. The main guy there dealing with customers and running things is great; one of those people I watch in action and say "I'd hire him." Which is a habit I've had since I was a teenager; observing people and evaluating whether they'd be good hires. Weird.
This time I decided to try the pork egg foo yong, not itself, but in one of the "tidbits" combos, with pork friend rice and chicken wings. $7.99 and you get most of a full order of rice, 2/3 of a full order of egg foo yong, and probably half a full order of chicken wings. I knew Deb might not like egg foo yong, and didn't know there'd be that much of it, but I was also trying to take it easy. I stopped at the farm stand to get milk and French bread. It was weird looking at the fruit and veggies and not buying any, but the only thing we maybe needed was butternut, and we're getting a bunch free. Finally, I went to our exceptional Burger King we have in Middleboro (whereas the McDonald's is… well, we don't ever go there, ever) and got Deb a bacon double cheeseburger, which proved to be an unusually good example of the genre. I felt very Gilmore, serving mixed take-out.
The kids were all excited, but Sadie hardly touched hers, including not trying the egg foo yong. Deb saw the egg foo yong and knew she wouldn't like it, which meant more for me. Val doesn't overtly get fed eggs yet, even though Sadie doesn't know that, and subsequently we've shrugged and given her stuff that had a little. Sadie did try a bite of chicken wing, and was fascinated by the bones.
It was quite likely the very best egg foo yong I have ever tasted.
The fried rice continues to be above average. The chicken wings went from being good last time to superlative this time.
Speaking of fried rice, I'll have to make my version again one of these days. It's not the same as restaurant fried rice; more like its own distinct thing. But it's so good that it's at the top of my "things I could bring to a pot luck" list.
Val devoured a few fries, most of a chicken fry, a bit of chicken wing, a bunch of rice, a surprising amount of bread, and some of the sweet & sour dipping sauce that came with the chicken fries. She got the container and poured it on herself and sucked the container clean. Way to celebrate turning 8 months, and get yourself an extra bath.
So Chinatown stikes again. The chicken pad thai, the orange chicken, the pork egg foo yong… all superlatives of their kind, with no slackers so far among the rice and appetizers. Next up: General Gao's chicken. Maybe sometime next month.
Jay: Ground Floor
I haven't changed the design form the ready-made template. I haven't even made a first post and gotten rid of the default first post. However, if you'd like to keep an eye on it, I have started a new blog here.
I'll probably work on it a little this weekend, but there's a lot else to do to, like going to the office and setting up computers and deploying them and installing Dragon 9.0 and stuff. Sadie might join me today, and we'll also stop at my grandmother's house, where they have several free butternut squash from my brother's garden for us. Mmmm… butternut.
Saturday, October 14, 2006
Jay: Chinatown
For the sake of expediency last night I picked up Chinese food, trying the new takeout place across from the state police barracks, Chinatown, for the second time. The other time was Sadie's birthday, when she said no to pizza and seemed excited about Chinese, despite having had it exactly once ever. That first time it was chicken pad thai, plus a combo of mass quantities of pork fried rice plus some boneless ribs and chicken wings. Best pad thai ever, and the kids just loved it. The rest was good too. And it went far for the money, though of course we can make "real food" for much less.
Last night was bad for that, though, between my being late and wanting to avoid dirtying pans and having less in the house to make than we could. The landlord is coming today to fix the tub drain (for the oven he said call the Town gas department to arrange an appointment, and they'll probably be able to fix it easy and bill him; otherwise he'll buy a new stove, though I told him it's in decent shape and if it were me I wouldn't), so we had a cleaning party last night after the kids were in bed. Hey, it's like that sometimes.
Anyway, Deb isn't a big Chinese food person, though I sense a change developing. Her one big thing she loves is orange chicken. That's one of their featured dishes, along with General Gao's and sesame chicken. Were it just for me, I'd try General Gao's, and then maybe pork egg foo yong (which I still need to try making myself sometime), but orange chicken is along the same lines. Plus we'd had eggs for lunch.
Best orange chicken ever.
Best she has had. Better than the couple times I've had it, and easily comparable to or better than the best General Gao's I've ever had. Once we've tried more of the menu, no doubt we'll circle back to that as a particularly usual choice, but we're even more intrigued to try other things.
The combo plate, which is an efficient way of getting essentially a full container worth of rice and a smapling of other stuff, was this time chicken fingers and boneless ribs. For some reason I thought chicken fingers were another Chinese thing she liked, and I thought it would be easier to feed the kids and better liked all around than chicken wings. In fact, Deb had never tried chicken fingers, but was crazy about them. They were decent exampls of the genre, so the place hasn't let us down yet on any specific item.
The kids loved the stuff. And for less money than pizza, there's almost as much mileage in the leftovers.
The funniest thing is Sadie learning what "Chinese" was, food-wise, after having had it once, and being soooo excited at the prospect.
Speaking of Chinese food, when I was a kid I got hooked on the stuff at some point. My father would take us out to dinner for my birthday and that is what I would want. He doesn't eat anything spiced or flavored to speak of, and unless a Chinese place crossed over enough to throw burgers and fries on their menu, there was really nothing at all for him to eat. I didn't fully appreciate the couple of times he relented until I was much older. Mostly he just got good at diverting my attention to some new place he had tried, where maybe they had good scallops or a yummy, oversized seafood plate, and I developed favorites among traditional restaurants. Especially the Tamarack, in Lakeville, not far from where we live, except now there's a park there instead of a building. Best. Scallops. Ever. Period. I have no idea what they did to them, but I don't think even Jennifer's, in Island Pond, Vermont, quite matched them. In my old age I've become more fond of shrimp, but I still enjoy good fried scallops.
Friday, October 13, 2006
Jay: The Single Guy Cook
Jeff Soyer has started a new blog: The Single Guy Cook. His cooking question posts proved so popular, he decided to collect them all in one place.
Today, for instance, he talks about how much he loves eggs, but says his egg salad is lame and asks how to make better egg salad.
Well worth reading the blog, which will go on our roll Real Soon Now.
Sunday, October 08, 2006
Jay: Pictures and More
This picture didn't quite capture her reaction, and was so dark I had to lighten it, but it suggests the way Sadie beamed with joy when everyone gathered around and started singing happy birthday after the cake was set in front of her.
Then she was like "okay, I'll dig in!" Before we got the cake out from in front of her and cut her a slice, she had started painstakingly picking off just the yellow icing that spelled happy birthday. That is how she eats cake; pick off frosting, color by color, then work on the actual cake.
My mother made the cake, which was really cute, decorated with cookie-based insect decorations. Sadie made a beeline for it, long before the food was even served (we were early even though that wasn't our intention), and wanted to start in on it as soon as she caught a glimpse. It was as if she knew that one was for her.
This was last Sunday, at an end of summer/group birthday party, held in the church cellar because it rained. There were birthdays for Ryun, Sharon, Martin, Sadie, Marc and Dan. So Sadie's was one of three traditional cakes plus an ice cream cake.
Here's a happy picture of Valerie and Deb…
I'd been feeding Valerie, and here she is trying to squirm off my lap…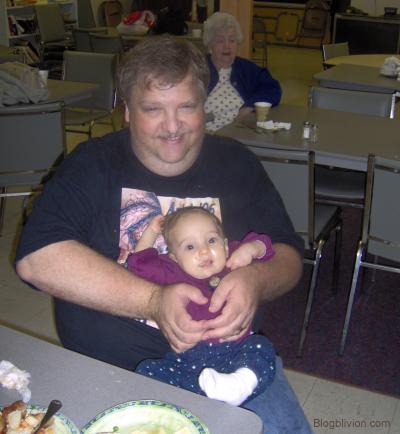 Valerie on the loose:
Sadie eating her cake, accompanied by her "rumble truck," which was a huge hit present. Pull the string and the truck rumbles and vibrates. Sadie learned to work it readily, having not really had a string pull toy before. Funny thing is, Valerie taight herself how to work it just yesterday, which I wouldn't have expected. Then again, Valerie figured out this morning that she could tunnel between shower curtain and tub when in the shower with me. Sadie never did that. Then again, Sadie didn't get to hang out in the tub during showers at that age.
Speaking of Sadie, looking back, I see I never posted about her checkup! That was Tuesday the 3rd. No shots this time, but it was still torture. Except the part where they pricked her finger to do glucose and hemaglobin tests; that was fascinating.
The nurse, the same young and reticent one who didn't get a good neasurement of Valerie, got a height that was way off. I measured later, got a reasonably certain 34 inches, and that was what the doctor went by. It's dead on 50th percentile. And is of great interest in the context of the "half of adult height at two" rule of thumb. The nurse called her weight 26 1/2 lbs. The digital scale said 26.2. Her head was 50 centimeters. Besides the 50th percentile on height, I guess weight is between 25th and 50th, and head circumference is off the charts above 100th.
The doctor suggested, to the point of writing it on a prescription form, that we get her high white last shoes, "like the old Buster Browns they don't make anymore," to encourage her feet to point straight. Which is funny, because she's still on her way to that going away on its own, the way the orthopedic specialist said it would, and we love it when they suggest we spend money we can't afford that is of questionable necessity. Oh well.
It was weird leaving there without making another appointment, but if the next one is a year out, then yeah, they wouldn't line up that far ahead. But then they forgot to send us to the lab for other blood tests that were due that nobody mentioned, so now one of us has to take her back to see the vampires.
Here's a fuzzy attempt at getting a picture of both kids with their great grandmother, with great-great granddaughter Emily roaring into the picture: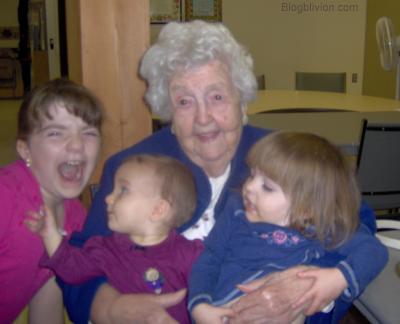 Good one of Valerie and her great-grandmother:
Nose!
Sadie loves grapes. She ate the entire bunch except a couple I took. The only problem in giving her grapes is she wants to share with Valerie, and for Val they have to be peeled and cut so she won't choke.
Queen Valerie surveys her domain…
Saturday, September 30, 2006
Jay: Cake!
Just a quick, preliminary post about Sadie's (very happy) birthday yesterday. Have to leave for work. I'm also behind on my food posts, like my fried eggplant (Deb: "This is good!" Sadie: "Mmmm.") and lemon fried chicken experiments, which overlaps with the birthday because we tried mainly chicken pad thai (Valerie's newest "best food ever!") from the new Chinese place. And there was cake. And an ill-fated set of small cupcakes.
This is the cake, $4.99 from Shaw's in Easton, chocolate with peanut butter frosting and mounds of chocolate frosting with Reese's Pieces on top:
Video in which we hold Sadie up to the counter and try to get her to blow out the candle (4.27 MB).
Thursday, September 14, 2006
Jay: Mmmm… Black Pepper. Or Maybe Not So Much…
I recently experimented with a dry rub on some boneless pork chops and it came out amazing. The only problem was the chops were upwards of an inch thick and hard to get cooked, so I'd have been better to butterfly them. I cooked three, and Deb could only eat half of one, they were that big. Four like them are in the freezer, awaiting my next experiment.
I forget exactly what I used, but I believe it included, with brown sugar for a base/carrier, red pepper, dry mustard, garlic, ginger, chili powder, cumin, black pepper, and onion powder. I put a little cilantro in the butter I put in the pan, but all else was in the rub. I did them in a non-stick pan, and ended up propping the self-basting cast iron cover over them in an effort to help them cook faster. The drips from that seemed to make it come out better. They tasted like barbecue. That is, my rub cooked into them and tasted like a slightly spicy, tomato-based barbecue sauce, despite there being nothing tomato in there. I meant to blog it right after, when I still remembered what I did. Deb also hasn't blogged about her black bean triumph I raved about.
Anyway, that led me to look for chicken rub recipes on the idea I might do something different wth last night's chick. I came across this tropical poultry rub recipe and was intrigued.
Yes! We had an orange in the fridge.
Since I wasn't doing a whole chicken or wanting to make the stuff for future reference, I needed to cut the components some. Oh boy, did I get all disproportionate…
I had probably a tablespoon and a half or orange zest. I used over a tablespoon of brown sugar, and most of a tablespoon of ginger. Not having cloves, I broke out the pumpkin pie spice and used about 3/8 teaspoon of that.
For some reason, I used just about a whole tablespoon of black paper. It may be, looking back, that I was thinking that called for two and I was cutting it the way I did the other stuff. Now, you don't think of black pepper as strong, right? People who don't eat spices will sprinkle pepper on some of their food.
So. It's a keeper, in principle. We cannot wait for me to experiment again and get the proportions ideal. However is was the spiciest thing I have ever made! I drank two glasses of milk and ate most of it with rice on the same fork. Deb got acclimated, but wasn't sure she could finish it, at first. Sadie, who'd already eaten one meal, was horrified. Valerie loved it, though she didn't get much of the outside.
It also may have mattered how I cooked it. They were large breasts, so to use cast iron like I wanted, I cut them into chunks as I usually do, and just used less olive oil than usual. Still, the oil and the pan make a difference as to how the flavors spread and penetrate.
Anyway, the basic concept, with something like the proportions in the original recipe, is fantastic. To the degree that the orange and so forth came through along with and even as an after taste to the pepper, it was wonderful. Who knew. It'll be nice to have the alternative to my usual variations centered on varying proportions sage, savory, rosemary, thyme, red pepper and garlic.