Quiz or Meme
Friday, July 04, 2008
Jay: Book Meme Thingie Going Round********
Via Sharon and Wayne. I'd love to know who comes up with these lists.
1) Look at the list and bold those you have read.
2) Italicize those you intend to read
3) Underline the books you LOVE.
1 Pride and Prejudice - Jane Austen
2 The Lord of the Rings - JRR Tolkien
3 Jane Eyre - Charlotte Bronte
4 Harry Potter series - JK Rowling
5 To Kill a Mockingbird - Harper Lee
6 The Bible*
7 Wuthering Heights - Emily Bronte
8 Nineteen Eighty Four - George Orwell******
9 His Dark Materials - Philip Pullman
10 Great Expectations - Charles Dickens
11 Little Women - Louisa M Alcott
12 Tess of the D'Urbervilles - Thomas Hardy
13 Catch 22 - Joseph Heller
14 Complete Works of Shakespeare
15 Rebecca - Daphne Du Maurier
16 The Hobbit - JRR Tolkien**
17 Birdsong - Sebastian Faulks
18 Catcher in the Rye - JD Salinger
19 The Time Traveller's Wife - Audrey Niffenegger
20 Middlemarch - George Eliot
21 Gone With The Wind - Margaret Mitchell
22 The Great Gatsby - F Scott Fitzgerald
23 Bleak House - Charles Dickens
24 War and Peace - Leo Tolstoy
25 The Hitch Hiker's Guide to the Galaxy - Douglas Adams
26 Brideshead Revisited - Evelyn Waugh
27 Crime and Punishment - Fyodor Dostoyevsky***
28 Grapes of Wrath - John Steinbeck
29 Alice in Wonderland - Lewis Carroll
30 The Wind in the Willows - Kenneth Grahame
31 Anna Karenina - Leo Tolstoy
32 David Copperfield - Charles Dickens
33 Chronicles of Narnia - CS Lewis
34 Emma - Jane Austen
35 Persuasion - Jane Austen
36 The Lion, The Witch and The Wardrobe - C.S. Lewis
37 The Kite Runner - Khaled Hosseini
38 Captain Corelli's Mandolin - Louis De Bernieres
39 Memoirs of a Geisha - Arthur Golden
40 Winnie the Pooh - AA Milne
41 Animal Farm - George Orwell
42 The Da Vinci Code - Dan Brown
43 One Hundred Years of Solitude - Gabriel Garcia Marquez
44 A Prayer for Owen Meaney - John Irving (this is a must read book if you have never read it.)
45 The Woman in White - Wilkie Collins
46 Anne of Green Gables - LM Montgomery
47 Far From The Madding Crowd - Thomas Hardy
48 The Handmaid's Tale - Margaret Atwood
49 Lord of the Flies - William Golding****
50 Atonement - Ian McEwan
51 Life of Pi - Yann Martel
52 Dune - Frank Herbert*****
53 Cold Comfort Farm - Stella Gibbons
54 Sense and Sensibility - Jane Austen
55 A Suitable Boy - Vikram Seth
56 The Shadow of the Wind - Carlos Ruiz Zafon
57 A Tale Of Two Cities - Charles Dickens
58 Brave New World - Aldous Huxley
59 The Curious Incident of the Dog in the Night-time - Mark Haddon
60 Love In The Time Of Cholera - Gabriel Garcia Marquez
61 Of Mice and Men - John Steinbeck
62 Lolita - Vladimir Nabokov
63 The Secret History - Donna Tartt
64 The Lovely Bones - Alice Sebold
65 Count of Monte Cristo - Alexandre Dumas
66 On The Road - Jack Kerouac
67 Jude the Obscure - Thomas Hardy
68 Bridget Jones' Diary - Helen Fielding
69 Midnight's Children - Salman Rushdie
70 Moby Dick - Herman Melville
71 Oliver Twist - Charles Dickens
72 Dracula - Bram Stoker
73 The Secret Garden - Frances Hodgson Burnett *******
74 Notes From A Small Island - Bill Bryson
75 Ulysses - James Joyce
76 The Bell Jar - Sylvia Plath
77 Swallows and Amazons - Arthur Ransome
78 Germinal - Emile Zola
79 Vanity Fair - William Makepeace Thackeray
80 Possession - AS Byatt
81 A Christmas Carol - Charles Dickens
82 Cloud Atlas - David Mitchell
83 The Color Purple - Alice Walker
84 The Remains of the Day - Kazuo Ishiguro
85 Madame Bovary - Gustave Flaubert
86 A Fine Balance - Rohinton Mistry
87 Charlotte's Web - EB White
88 The Five People You Meet In Heaven - Mitch Albom
89 Adventures of Sherlock Holmes - Sir Arthur Conan Doyle
90 The Faraway Tree Collection - Enid Blyton
91 Heart of Darkness - Joseph Conrad
92 The Little Prince - Antoine De Saint-Exupery
93 The Wasp Factory - Iain Banks
94 Watership Down - Richard Adams
95 A Confederacy of Dunces - John Kennedy Toole
96 A Town Like Alice - Nevil Shute
97 The Three Musketeers - Alexandre Dumas
98 Hamlet - William Shakespeare
99 Charlie and the Chocolate Factory - Roald Dahl
* I did sit down and read Revelations once, and maybe poked other parts with a stick, but the whole thing? No more than I've read Dianetics.
** Tried once young and was so bored I couldn't get far, which delayed my reading of the others.
*** Read part of this for an English class and found it scarily compelling. I "felt" too strongly what the main character was feeling and it freaked me out.
**** 9th Grade reading, but I liked it almost to the point of underlining, but it's also a creepy study in human psychology, almost to where everyone ought to read it.
***** So boring I never read another of the series, yet oddly compelling enough I finished it and can see why maybe some were so intrigued.
****** Read this circa end of 1981 in my 1st apartment, resulting in uncharacteristic nightmares, as it has the same psychological edge as the type inexplicably deep-seated fears I suffer from most. The same thing that made me so horrified of the idea that in the Soviet Union they could call you crazy, look you up forever and torment you for being the rational one, or could easily accuse you of something you didn't do or essentially invent a silly crime and completely ruin your life. Oh wait. It was sparked a deep depression that I got out of by reading Atlas Shrugged and by deciding to go to college and change my life completely.
******* It would be hard to overstate my love of this book, and its influence on me. Somewhere in a box I have a copy that might be 1st edition but is missing key pages so can't tell. Or maybe it was damaged in some other way. If I still have and can find it.
******** Like some Indonesian junk…

Sunday, June 29, 2008
Jay: Mostly. Sometimes.
Your Personality Is




Rational (NT)





You are both logical and creative. You are full of ideas.

You are so rational that you analyze everything. This drives people a little crazy!



Intelligence is important to you. You always like to be around smart people.

In fact, you're often a little short with people who don't impress you mentally.



You seem distant to some - but it's usually because you're deep in thought.

Those who understand you best are fellow Rationals.



In love, you tend to approach things with logic. You seek a compatible mate - who is also very intelligent.



At work, you tend to gravitate toward idea building careers - like programming, medicine, or academia.



With others, you are very honest and direct. People often can't take your criticism well.



As far as your looks go, you're coasting on what you were born with. You think fashion is silly.



On weekends, you spend most of your time thinking, experimenting with new ideas, or learning new things.

Wednesday, June 25, 2008
Jay: I'm Analytical, in a Sense
Via Rob Sama, who is a dynamic thinker

Monday, June 23, 2008
Jay: Collected Aspie Posts
Once upon a time, I learned that a thing called Asperger's Syndrome exists. Even though it and most such labels do nothing more than put names on shades of normal - no different from being labeled geeky or athletic or musical - it still provides fascinating insight. It even makes autism seem less odd, since it adds fuzzy shading to the borderlands between "us" and "them."
Over time, I have posted on that and related topics, and this is an attempt to collect and revisit that, most notably by reposting the hard to find first post, less than two months into my blogging career, on my rapidly abandoned first blog. Some of the links are dead, notably those to Dandelion Wine, but are included for the sake of exactness.
This is that first post, which actually post-dates the beginning of my interest, but brought it online:

Saturday, April 19, 2003

Asperger's Syndrome

A while back, Wired, to which I subscribe, had an issue with an article on "The Geek Syndrome." It was a fascinating look at Asperger's syndrome, which is a form of autism, on the autism spectrum of disorders; sometimes also called high functioning autism. People with it tend to lead a reasonably normal life, and tend to be disproportionately computer/programming/engineering oriented. Thus the article was looking at the idea that a high rate of autism in Silicon Valley and the Route 128 region might be a genetic result of the large number of geek, and therefore possibly Asperger, parents in those areas.

I was reminded of all this by a post on the topic at Dandelion Wine

The Wired article had a sidebar of an "Autism Quotient" test, which purports to measure where you fall on the spectrum. From what I have seen, many people don't think it's a particularly viable test. Nonetheless, I found it interesting and so I link to it here:
AQ Test

My score was 30. They say at the top of the test page that "Eighty percent of those diagnosed with autism or a related disorder scored 32 or higher." Looks like I push the envelope a little.

Related to this, Dandelion Wine also points us to a brain quiz, ostensibly "how male or female is your brain."

I took the interactive EQ test and then, clicking from those results, the interactive SQ test. Both require Flash. There's an option for manual tests as well. From the test pages you can then go to this final page to work out what type of brain you have, using a grid to plot the results of EQ and SQ and see which shaded area you fall into.

For what it's worth, my scores were:
EQ of 41
SQ of 53
Overall brain type "Extreme Type S"

Fascinating.

The original Wired article and AQ test led me to actually buy books on Asperger's and to read all about it online, because I seem to approach but not quite cross over to it myself, and I suspected my nephew was so afflicted. That and it was inherently intriguing, as I find anything to do with brain function to be, given my own history. That has always applied to IQ testing as well.

- Jay Solo, 2:25 AM
The next relevant posts I located offhand were at Accidental Verbosity, in the form of:
Autism As Extreme Male Brain
Asperger's Schizophrenic Hyperactivity Deficit Disorder
That second one points to a related discussion, starting from adult ADHD and going into more in the comments. It predates Caltechgirl having a blog, rather than being an avid commenter. Her comments on the set of topics are especially cool.
Again with over- and mis-diagnosis, the attention deficit stuff is as much as anything an excuse for drugging kids into being uniformly submissive, passive bots who can bear not to have recess and won't have normal traits some people find inconvenient or hard to understand.
These Quizzy Things are only marginally relevant, but I remarked about the Aspie relationship to the perfectionist quiz especially, but even the other two are about being a certain way or collecting certain facts.
In You May Just Be An Aspie... I linked to and quoted extensively the best of this You Might Be An Aspie If page of collected behavioral anecdotes.
Life, Liberty, and the Pursuit of Aspieness had me linking a slicker AQ test, on which I scored 32. These always seem to vary depending on mood and change in thinking over time. Having written that, I took it again, going on a year later, and scored 36. Oops.
Most recently, last October 29, in How Aspie Are You? I linked another quiz, which interestingly I just retook and scored 138 and 58, versus 161 and 54 last time, an improvement. I must have gone less wishy-washy last time. Basically it's no/never, or kinda yes/sometimes, or really yes, all the time, with a 4th option for not sure/don't know. I saved the PDF, but didn't bother with a screenshot.
I probably wrote about this elsewhere and didn't find them all, but basically that's what I had out there. Besides any instances where I mentioned autism and slammed the idiots who won't let go of the vaccine preservative autism nonsense people grasp at like so many straws. But that's an entirely different topic, though obviously these posts touch on it because of the clear genetic connection. Geeks beget geeks. Sometimes the curve goes too far and we call it autism.
It's hardly shocking for two high IQ people with geek tendencies (remember, Deb went part of the way toward an engineering degree before resorting to expedience to graduate sooner) to have had Sadie, Valerie - who increasingly seems to make Sadie look normal and ordinary - and even, it appears, Henry. You never know, after all. I started out as charismatically sunny, amused and communicative and physically quick as he is. He doesn't merely look like I did. He's already getting into the "taking things apart" or "seeing how things work" kind of trouble I'd have thought would take longer. None of which means aspieness, but it'll be interesting to watch. And again, nothing wrong with that. Someone has to fall on that part of the range of human, and it's not like you can't function. Well, kind of. Mostly. Sometimes.

Sunday, June 22, 2008
Jay: I'm a Depression Era Husband for Sure
93

As a 1930s husband, I am
Very Superior
Tuesday, April 01, 2008
Jay: Haven't Done a Goofy Quiz Lately

Powered By Vibrating Toy


Sunday, March 09, 2008
Jay: Content? You Wanted Content?
Sorry guys. I'm finishing up an almost-done article for elsewhere, then returning to working on the newfangled resume so that can go to hither and yawn by sometime Monday. Anything you see here today will be if my fancy strikes me and I was taking a break, and probably brief at that.
I know it's not supposed to be about striving for the numbers, but I'm pleased to be near 100 connections in LinkedIn. I'm even more pleased to have five of the twelve people with whom I started in Microsoft Word support in 1994. At least tweaking LinkedIn and adding connections is networking and job hunting. But then, so are lots of things.
Speaking of money and business, looks like I will do a big double edition of Carnival of the Capitalists this week and make it a fundraiser. That ought to go over with a thud.
At some point, probably sooner rather than later, I'll break so Deb can shower, which might be a good time to finish making the chicken-based soup that is currently a pan of broth with shreds of chicken and quite possibly no bones in it.
Okay, back to it, whichever order it goes. Long as I have a finished resume by evening I'll be happy.

Friday, February 29, 2008
Jay: Check Out CotC
Here is this week's Carnival of the Capitalists, which has some decent entries you might find of interest. Skim on through and see.

Tuesday, February 19, 2008
Jay: CotC is Up
I should note that the February 19 Carnival of the Capitalists is up over at Bizosphere. Especially since clicks from here if I remember to link it are one of the major distinct sources of CotC traffic, and it's really quite good this week, if I do say so myself.

Sunday, February 17, 2008
Jay: Not Rocket Science
I wrote a comprehensive explanation of the new Carnival of the Capitalists format, as there was apparently some confusion.
It'd be kind of silly to stop holding the thing entirely for lack of hosts without making sure people are completely clear first.

Thursday, February 14, 2008
Jay: CotC Blackout Edition
This week's Carnival of the Capitalists is up after some delay due to a busy host, and slight trauma due to a power outage here.

Tuesday, February 05, 2008
Jay: Carnival of the Capitalists is up
The February 5 Carnival of the Capitalists is up, hosted by yours truly. There's a bunch of good and rather different stuff. The majority is what I went out and found, especially since there were few outside entries.
Speaking of which, you can suggest a post you saw written by someone else, not just one you wrote.
I'm eager to land volunteers for additional weeks starting with the February 19 edition. You don't have to be a bloggers, and can put your own spin on it.

Tuesday, January 29, 2008
Jay: CotC is Up
I should note that this week's Carnival of the Capitalists is up at Bizosphere. It continues to appear we are on the right track with the total reboot of the concept.
This edition was hosted superbly by cehwiedel of One Man Band.
Next week it would seem I am hosting, although I do have one possible host who may step in instead, or who may ask for the next week.

Thursday, January 17, 2008
Jay: What's In Your Freezer?
Taking a break from working on my to do list and backups, here is why we will undoubtedly want a freezer someday: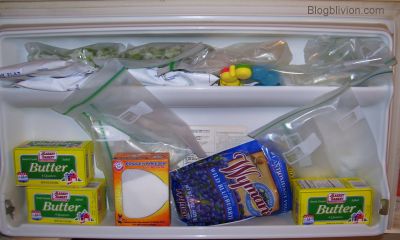 That's a little less neat than I had it, as we removed and moved stuff after I completely repacked it to make it all fit. For instance, there'd been two loves of bread on top of the veggies, but those were used and replaced by a roast. Since the pictures, we've used a couple chicken breasts and added a small whole chicken. The other one being in the fridge to cook tomorrow or Saturday.
Hmmm… I wonder if it would work to cook it in the crockpot toward the goal of a shredded chicken dish.
Anyway, this is a lot and yet surprisingly little food, and I can absolutely see maintaining a separate freezer and rotating stuff through it.

Friday, December 28, 2007
Jay: Learn Something New…
I just found out there is a 4000 character limit to answers on LinkedIn!
Someone asked about hosting a blog carnival, in a way that sounded more like intent to start a new blog carnival. Rob Sama suggested me as an expert. I took the bait and answered:
It seems I have been invoked. I'm the guy who for all practical purposes defined what a "blog carnival" is, in terms of taking the original inspiration of Carnival of the Vanities and adapting it to carnivals defined by topic.

That said, I agree with Rob Sama on the current state of blog carnivals, and the existence of "Blog Carnival" has been both useful and at the heart of the concept's collapse. If I wanted to start something that was the conceptual heir of a blog carnival from scratch these days, I would not name it a carnival, try to distinguish it clearly, and promote accordingly.

That said, I have an important question right up front: Do you mean you want to HOST a carnival, as in hosting one week's edition? Or do you mean that you want to CREATE a carnival and be the sponsoring or home blog for it? That's two very distinct answers, though knowing the former would give insight to the latter. Which means that if you are thinking of creating a carnival, having hosted some other carnival first might be informative. For that matter, so might participating in some other carnival.

If the question is merely one of hosting, then much depends on the rules and guidelines of the carnival in question. Do you link all entries? Do you have standards? Themes? In brief, hosting a blog carnival edition is about getting the submissions, reading the posts and screening them as needed, and composing a post on your blog that links to them in some appropriate and readable form. I've given hosts who were unsure blow by blow descriptions, but that shouldn't be necessary.

I'm going to assume you mean you're thinking of starting a blog carnival. I've answered that one directly many times, as well as having people extrapolate from seeing what I'd done.

Pick a topic or niche. Perhaps leave some flexibility to expand or contract if it's too big or small as originally stated. See if one already exists that covers the same thing, and decide whether to duplicate or not. Don't use the same name as another carnival.

Pick a period of time between editions. Weekly is the norm, but monthly ones have long existed. In keeping with that, pick a publication day and a cutoff day and time for new entries. You might see what days are most popular, like Monday, and go with another. You might also base the day on some associated factor, like CotC being on Monday on the idea of people starting the week with a collection of the prior week's best posts on business and economics to peruse.

Have a page or site that is the home of the carnival, where you can have information, rules, guidelines, links to past editions, and future hosts listed. Most new carnivals rely on "Blog Carnival" for some of this, to the point where people sometimes take "Blog Carnival" to be the authority over and prime source of info your carnival.

A carnival isn't a "real" carnival unless it migrates from blog to blog, as opposed to being always hosted by one blog. It's fine to run it in-house a while to get a handle on it, get it established, and be comfortable understanding what your hosts will run into. It's just not truly a carnival if the plans is for it never to move around.

Promotion is important. CotC exploded out of the gate in part by being a new concept the blogosphere was ready for in 2003, and partly due to strong participation and linkage. If you're starting a blog in a particular niche, you will want to get word out to likely entrants. Those are also people who can give you sanity checks when the idea is new and still in flux.

Have some care with who hosts, and that they understand what is involved.

If you host one or more of the early editions, you set the standards for how lax or strict to be in practice, as far as allowing off-topic, excessively spammy or self-promoting entries, etc.

It's your carnival (or not-a-carnival, if you go with the advice near the top), so really the rules and standards employed can be…
I added the ellipsis when LinkedIn started yelling at me about being over and I had to back up. The rest would go something like:
anything you want, including not being a "real" carnival.
Another element of a carnival that almost goes without saying is the primarily self-submitting nature of it. CotC has always allowed hosts to add good links they selected from out and about, but ultimately it's about people entering links to their posts. If it's someone going out and finding a bunch of posts to link on some topic, well, that's a link roundup; a venerable thing that predates even the first carnival. If a roundup is what you'd really like to do, go for it. Promote it. Give it a cool name, like the old cul-de-sac. Just don't call it a carnival.
Running a blog carnival can get old, boring, tedious, sometimes annoying, and that's why the blogscape is littered with the carcasses of sometimes remarkably short-lived carnivals, even if they were good ideas. If you are the carnival organizer, you are the ultimate fallback host if your scheduled host goes AWOL, or you can't even find a host in the first place. You are the person who gets squabbled at when someone thinks their post was unfairly excluded, or when the host does a bad job.
I'm probably leaving something out, but that would about cover it. I tried to add a second answer to finish, but it's one answer, period, and even adding a clarification fails if you are up to the character limit in the main answer.
I sometimes think Carnival of the Capitalists might be best off retired to a business magazine's online presence, or a business blog portal, as a weekly roundup that combined truly superior self-submissions and items of interest found by the editor. The name and some momentum would come from the CotC's history, and accepting submissions would be a bow toward it having been a "real carnival" in the past. The blog carnival meme is dead. Much as I berate "Blog Carnival" for killing it, the meme was already dying at the time that was founded and sped up the process.
Update:
If you read the post in the first few moments it was up, pardon the repetition. I was typing in the browser at LinkedIn, pasting bits into w.bloggar when I thought I was going to get interrupted or to avoid losing it before I saved, and then when I pasted into this post I got multiple iterations of the beginning of the answer. I think I cleaned it up to normality now…